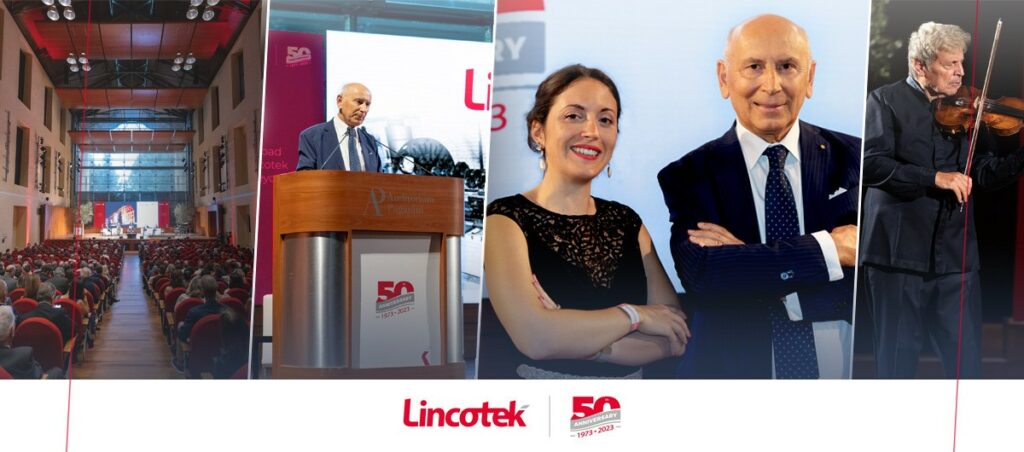 The Group takes over Renzo Piano's Auditorium Paganini with celebrity guests.

Parma – Italy, Sept 18, 2023: Radio 24's Sebastiano Barisoni and musician Uto Ughi were just two of the high-profile figures who joined Italy-based manufacturing company Lincotek as it celebrated 50 successful years in business last week at Auditorium Paganini in Parma.
The Group has a great history, which started from a simple garage way back in 1973. Since then, what was a small provincial business has grown to become an international group with a turnover of over 250 million euros, 1,700 employees and 20 facilities between Italy, France, Switzerland, the United States, and China.
This true Italian entrepreneurial success has, in part, been made possible by the fact that the company is still owned by the Antolotti family today. Nelso Antolotti still retains his role as Group President, while his daughter Linda serves as Vice President.
The 50th Anniversary led founder Nelso Antolotti to reflect on the foundation of the company back in the 1970s: "My father decided to retire and gave my brother and me a cheque for 10 million lire (approximately 5,000 euros) with the words, 'Do something on your own!' I was thinking of opening a lathe workshop, but there was too much competition in turning; I was shown a METCO gun that performed parts heat treatments. So, I contacted that company, bought some guns, and tried to understand the market. After a few months – in September 1973- in a garage, we started our adventure. That small company borned as Flametal became Unitedcoatings Group in 2010 and Lincotek in 2020 following a major rebranding."
The company's recent party brought together representatives of employees, key stakeholders and business partners too, such as customers, suppliers, financial and local institutions.
A panel discussion opened the event and was facilitated by journalist Sebastiano Barisoni: Lincotek Past and Future. From local company to global company. Balancing innovation and sustainability. Guest contributors included Gregorio De Felice, Chief Economist at Intesa San Paolo; Alessandro Chiesi, President of the Chiesi Group; Andrea Pontremoli, CEO of Dallara Automobili; and Andrea Colombo, CEO of Lincotek Group.
Live entertainment and music completed the evening, starting with a violin recital from one of Italy's most prominent living musicians and conductors, Uto Ughi, idolized by international critics, who was commissioned Cavaliere della Gran Croce by the President of Italy in the 1990s.
The 50th anniversary was a chance not only to reflect on the history of the business but also to look forward to future opportunities.
Vice-President Linda Antolotti proudly said: "Today the company – despite having actually become a multinational business – still maintains those family values. This family culture is connected to the value we give to people within the company. Without our people Lincotek wouldn't exist. I am proud that wherever you go, from the United States to China, you can still live and breathe this culture of familiarity."
Andrea Colombo, CEO of the Group, commented: "Lincotek was born as a service provider of technological coatings and expanded as a contract manufacturer, but always with the aim of becoming a solution provider for the sectors in which it operates and helping its customers to find the solutions to the important challenges that arise in front of them every day. The future of Lincotek therefore starts from the awareness of the successes of the past and is based on the characteristics that were founding for the past – curiosity, courage, awareness and collaboration – and which will remain the pillars for future evolution."
About Lincotek Group
Lincotek, headquartered in Rubbiano, Parma – Italy, is a global solution provider working in niche markets including Industrial Gas Turbines, Aviation and Medical Device applications, as well as a leading manufacturer of industrial coating equipment and one of the most respected producers in the Additive Manufacturing field. The Group is family-owned and has more than 1,700 employees located in 20 production facilities across Europe, North America and Asia. For more information on Lincotek Group, please visit: www.lincotek.com. Media contact: Francesca Pedrotti, marketing@lincotek.com | +39 345 6203212