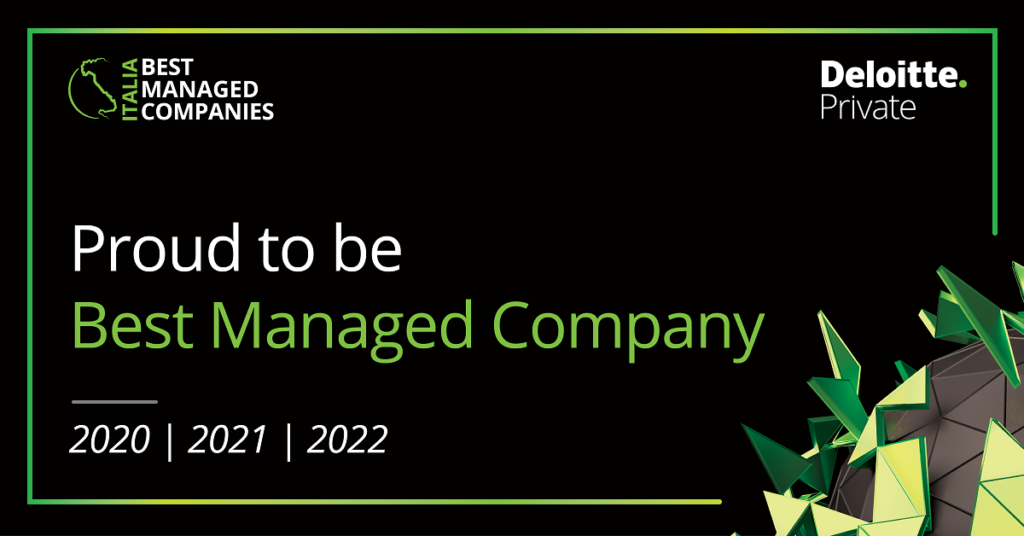 Parma-based contract manufacturer included in 'Best Managed Companies' list.
Rubbiano-Parma, Italy | October 5, 2022: – Lincotek has once again received a Deloitte Private Award for business excellence. The announcement was made at a ceremony on Tuesday October 4th in Palazzo Mezzanotte, the headquarters of Borsa Italiana Euronext.
It's the third time the company has received the accolade since 2020 – this time as part of the Fifth Edition of the Best Managed Companies Awards, supported by ALTIS, the Graduate School Business & Society of the Università Cattolica, ELITE (Euronext Group) and Piccola Industria Cofindustria.
The award is evaluated on the basis of seven key criteria: Strategy; Skills and Innovation; Effort and Business Culture; Governance and Performance Measurements; Sustainability; Supply Chain; and Internationalization.  The companies named have proved they are able to react, adapt, innovate and maintain absolute standards of excellence, fulfilling their true entrepreneurial potential.
In total, 79 businesses were honored – 28% from Lombardy, 16% from Emilia-Romagna and 13% from Piedmont. Manufacturing businesses made up 53% of the Best Managed Companies and half of the firms recognized at the ceremony were family owned.
Linda Antolotti, Vice President of Lincotek said: "We are very pleased and proud to have received recognition as a Best Managed Company once again. This award belongs to all Lincotek people: they make us the company we are today. In our DNA, we have always had focus on innovation and technology. We invest every year, but without the professionalism, dedication, commitment and passion of all our 1,500 people around the world, we couldn't have got where we are today and we couldn't plan for tomorrow.
"We know that we can still improve in several aspects of our work and our management and shareholders are making available the tools to ensure it happens. Our goal is to create an increasingly sustainable company; one that looks to the future with an altruistic vision; a company that is part of a territory and community; one that knows to how boost business performance, organizational well-being and provide support across different territories."
The companies named in the Awards ceremony participate in a growth program supported by experts from Deloitte Private, with the aim of developing them financially, strategically and in terms of skills.
"Congratulations to LINCOTEK for this important award", said Ernesto Lanzillo, Deloitte Partner and Deloitte Private Leader, and Andrea Restelli, Deloitte Partner and BMC chief for Italy. "This year's edition, like the one from last year, has taken place in a difficult context, marked not only by the persisting pandemic effects, but also from a war that has had serious impact on businesses. We have seen supply chain interruptions, increasing costs of raw materials, from the energy crisis to the food crisis, with inflation rates reaching record levels. Also in this challenging context, rewarded companies have shown resilience and constant innovation, continuing to be a symbol of excellence and showing strength and the "Made in Italy" entrepreneurial potential."
About Lincotek Group
Lincotek, headquartered in Rubbiano, Parma – Italy, is a global contract manufacturer for services in niche markets including Industrial Gas Turbines, Aviation and Medical Device applications, as well as a leading manufacturer of industrial coating equipment and one of the most respected producers in the Additive Manufacturing field. The Group is family-owned and has more than 1,500 employees located in 20 production facilities across Europe, North America and Asia.